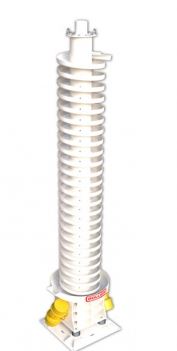 The ELV vibrating elevator consists of a spiral tray welded to a robust central pipe in whose foot or head it has vibrators. The material ascends by vibration of homogeneous and constant way. It is used for vertical conveying and, given its great developed length, for cooling materials. Rollier has vibrant elevators with false bottom and water traffic in the interior to get better cooling. The vibrating elevator ELV Series can be manufactured in carbon steel, stainless steel AISI 304 and stainless steel AISI 316 and 316L (for the food industry). As optional, a plastic or a metalic dust proof cover can be delivered with dust aspirations pipes where required. When required, the spiral tray can be made with perforated sheet in the bottom, to assure more ventilation for hot materials. Easy to install, the ELV vibrating elevator only needs a leveled concrete floor to set it with chemical anchors.
Vertical conveying and cooling of
Ashes
Glass
Special sand
Plastic
Shredded aluminum
Shredded copper
Pharmacological products
Metalic pieces
Cooling of plastic from extruder
Food industry
Treatment of cereals
Advantages
Simple and robust design
Compact implantation
Low maintenance
Low power consumption
See video here. To see more vibrating conveyors click here
To elevate granulated products and foodstuffs. Powered by two electrical motor vibrators fitted to the upper and lower part of the machine.Elevation heights of up to 8 m. and flows of up to 8 cu. m./h. Open or airtight designs with static hoods and inspection windows. Optional cooling.
In general, these elevators are useful for lifting all types of bulk products, following analysis of their characteristics (humidity, density, particle size, etc.) and they can also be adapted to take advantage of the materials movement for cooling, or drying, depending on its specific needs.