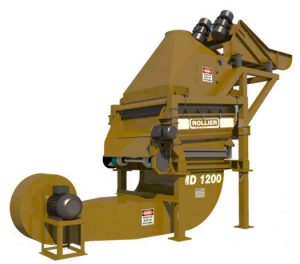 The Rollier Densimetric Table Separator – Model Morrisfeed
The Densimetric Table Separator is a combination of fluid bed technology and inclined vibration table. The injected air floats the lighter density particles, while the vibrating table transports upward the table the heavier particles.
The Rollier Densimetric Table is particularly useful in separating:
Compost—Glass and Stones Removal
Slag/Mineral Separation
Metals/Plastic separation—Chopped wire for example
Woods and Plastics
Shredded tires and extracted wire
Grape Marc Seed Removal (waste from wine making)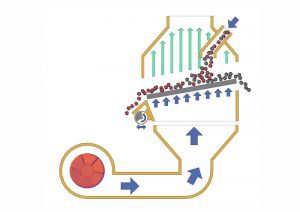 Description
Vibrating table
Cyclone or filter or both for aspirated materials
Fluidization fan
Suction fan
Electric cabinet (optional)
The Rollier Morrisfeed Densimetric Table  Separator is a fluid bed and vibrated table combination. The injected air creates a bed of particles that, by density and vibration, moves towards opposite sides, depending on the apparent weight or apparent density This allows that material of different densities and sizes to be separated.
The Morrisfeed Densimetric Table works with two fans controlled by frequency converters (VFD's) integrated in the electric control cabinet. This creates an air flow that goes through a vibrating table that is fed with the material to separate, throwing the heavy particles to one side and the light particles to the other side.
Particularly useful in cleaning compost, removal of seeds from grape marc (waste from wine making), removal of metals or foreign materials from plastics, separation of slag from metals, and removal of wire from shredded and ground tires.
Fines recovery by cyclone , dust collector or combination or both. Feed to the unit can be by conveyor or vibratory feeder.
Available in 7 models with table widths from 500 to 2400 mm and lengths of 1350 mm.
References
Rollier has many references of the densimetric table separator Morrisfeed series in the recycling and mining sectors.
Models available Rollier Morrisfeed Densimetric Table: 
| Model | Width (mm) | Length (mm) |
| --- | --- | --- |
| MD500 | 500 | 1350 |
| MD700 | 700 | 1350 |
| MD1000 | 1000 | 1350 |
| MD1200 | 1200 | 1350 |
| MD1500 | 1500 | 1350 |
| MD2000 | 2000 | 1350 |
| MD2400 | 2400 | 1350 |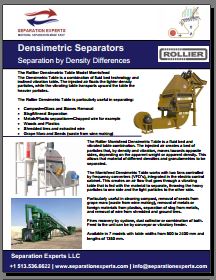 Download the Densimetric Table Separator Brochure