High performance and tested hardiness, the ROLLIERBELT conveyors are the best choice for your installation.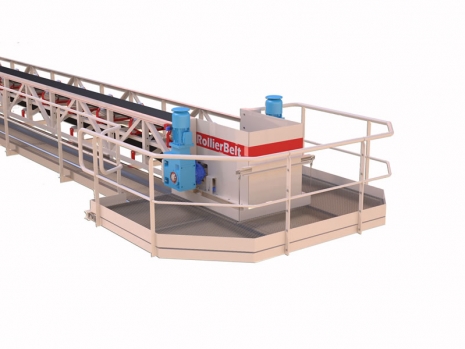 Belt width: 500, 650, 800, 1000, 1200 and 1400mm
Named Brand Motorgear
For all kind of belts
Supports in structural pipe
Description
Truss structure (HD) or folded sheet (Compact)
Head and tail with  drum mounted with grip rings
Perfect cover system (optional)
Grate floored walkways and perimetral maintenance walkway in conveyor head
Hardiness and flexibility
The conveyor belts RollierBelt are suitable for flows from minimal flow up to 1200t/hr. They can be made in any length and inclination. Supplied in packages with:
Heads
intermediate bodies
Tails
All ready to assembly on site.
The ROLLIERBELT are suitable for use in the aggregates and mining industry. They are very high performance belts, made to last a lifetime and designed for large facilities. They have been created using the most advanced computerised design and manufacturing techniques to ensure perfect adjustment and fit of all the parts.
ROLLIERBELT's modular conception allows all kinds of combinations to suit the exact required implementation specifications. Furthermore, most of the additional commercial components on the market can be easily incorporated, such as continuous weighing scales, metal detectors, filters for dust collection, high performance scrapers, Sparga type protections, etc.
Its design, which enables installation evolution at any time, is one of its most economically attractive features.
Emphasis has been placed on novel aspects, such as the incorporation of structural tubular supports, which prevents the traditional accumulation of dust on the supports and unnecessary overloading. The equipment comes galvanised as standard although clients may choose a paint finish of whatever type they wish.
ROLLIERBELT conveyer belts have been designed with the participation of the corresponding safety organisations.
Belt widths we manufacture: 500, 650, 800, 1000, 1200 and 1400.
Standards applied: DIN, ISO and CEMA